In the age of digitalization, knowledge is more accessible than ever, and learning materials are literally in the palm of your hand. And what's even more remarkable is that online education needs to stand up, and it's in its heyday. This raises a legitimate question for many aspiring business people who want to try their hand at the online course niche.
"What platform should I choose to distribute my courses? There are so many…" We're here to help you with that. In this post, we have prepared a list of the most significant and convenient platforms where you can place your online courses.
But before we start, we'd like to advise you of a great place where you can take free online courses. We are now talking about Lectera, which offers high-quality online courses you can't find at any other competitor.
Unicraft
Unicraft is an excellent tool for creating online courses. This platform focuses on corporate training and aims to achieve various business goals. For example, stream staff adaptation, HR process automation, or business scaling. Unicraft attracts both users and administrators with its user-friendly and intuitive interface.
Thinkific
One of the leading platforms worldwide. You can purchase either its limited free version or the full version, which is equally suitable for business beginners with little finances and professionals who have been in the business for a long time.
Thinkific's policy is to help users. Here you can find a wide variety of features to help optimize the performance of any project. These include, for example, tools for launching email marketing or providing 24/7 customer support.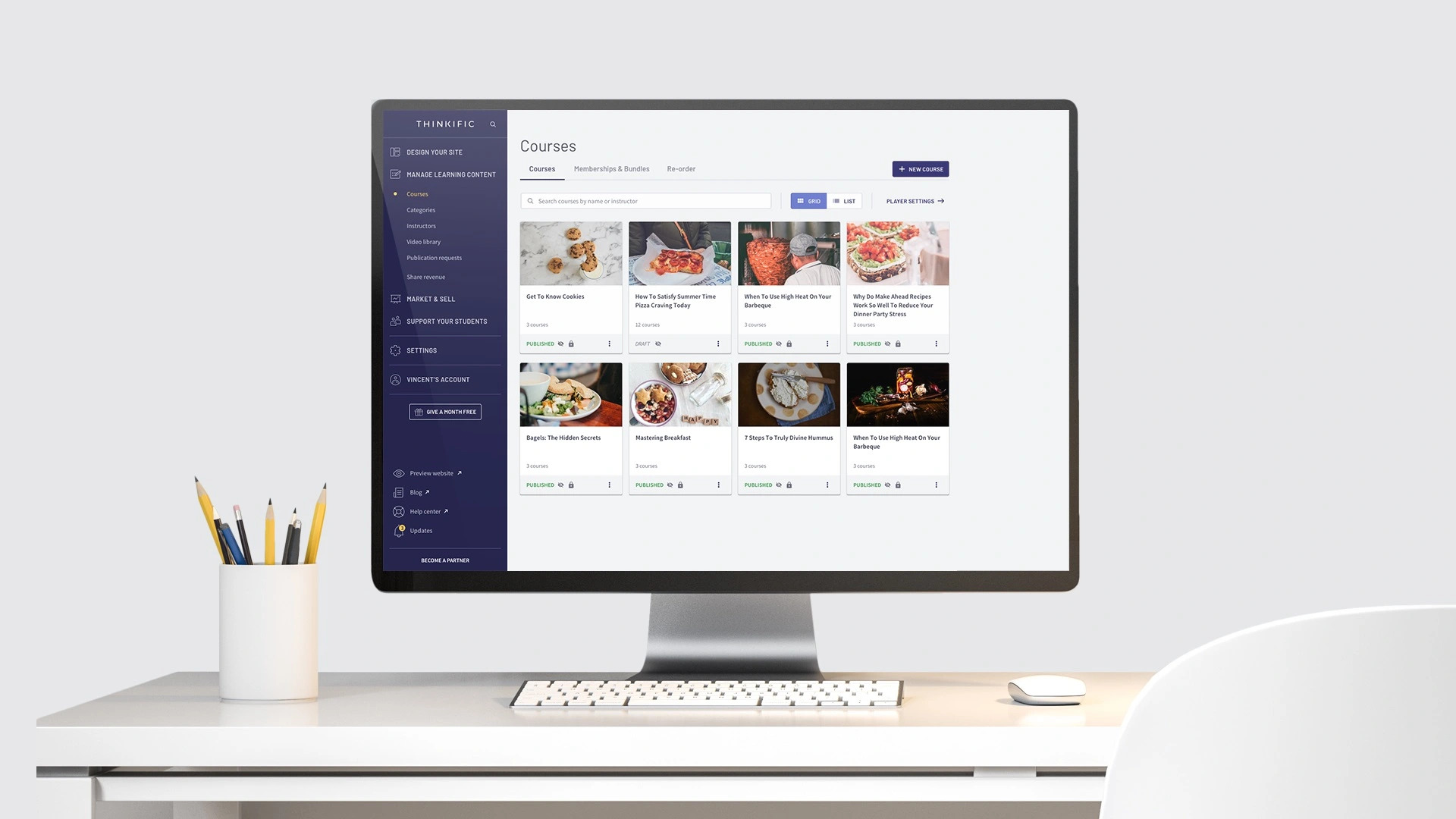 You'll get a free month of premium subscriptions when you sign up. This will allow you to create an unlimited number of courses and provide advanced scheduling tools.
By the way, also quite entertaining is the fact that Thinkific offers you to create your website right after registering. This is convenient because you can put your training content there without worrying about your website programming, saving you time.
Skillshare
Skillshare is one of the great online learning platforms for students and teachers with practical skills. These skills are discovered and learned through project-based courses. Users can access content, presentations, and online courses on various topics through the platform for teachers and students.
These topics include business, design, technology, marketing, photography, fashion, film, music, cooking, games, writing, crafts, art, and more. Professionals using the platform as instructors can share skills by creating and publishing courses. Skillshare allows people to grow in their careers, improve their lives, and do things they love.
The online learning community gives users access to quality training. These are the three leading platforms where you can post your online courses and start earning from them today. Of course, other platforms exist, but our team highlighted these three because they are the best.